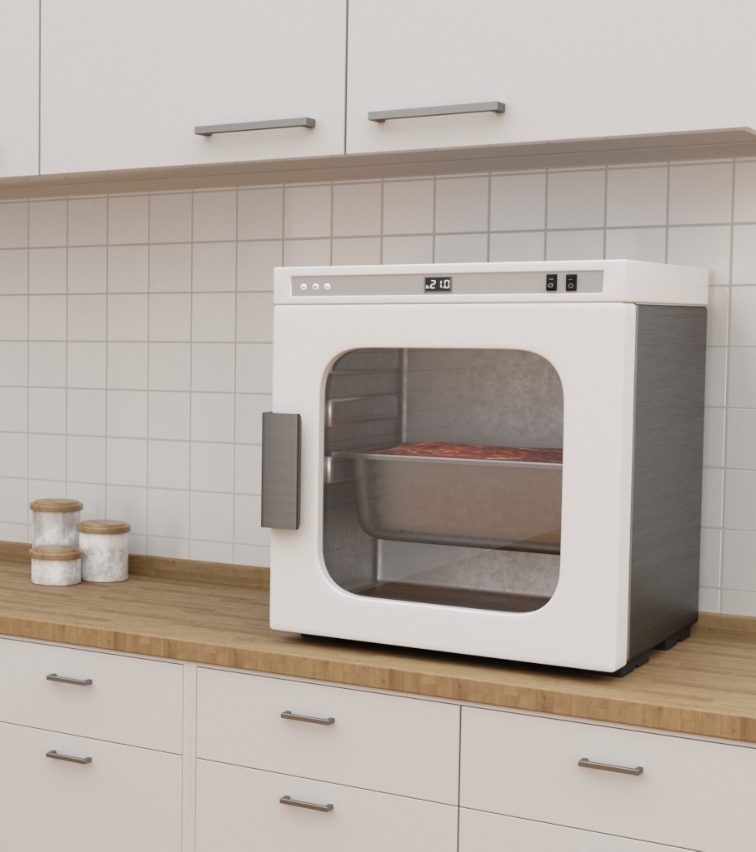 This device, conceptualised, designed and developed at LABe together with Tecnalia, is currently in the market transfer phase.
The latest trends in the world of gastronomy and haute cuisine have demonstrated a growing need to offer foods that enrich and balance the intestinal flora. In order to transmit the knowledge and benefits of the ancient technique of fermentation, Fermentabox was created, a device that allows the professional and safe preparation of fermented foods in restaurants and homes.
The all-in-one tool
Fermentations need very specific climatic conditions that are difficult to obtain with normal kitchen equipment because this process only happens when there is an absence of oxygen and an organic substance is transformed into a simpler one promoted by an external micro-organism.
In this fully monitored atmosphere, Fermentabox makes it possible to control all aspects related to the machine (temperature, oxygen, humidity, time, pH, air quality, and gases) via a mobile app, and also offers other services such as the visualization of historical data and recipes for making soy sauce, miso or koji. It thus becomes an online community for sharing and downloading fermentations with other users.
This technological solution opens the door to all the culinary possibilities involved in the practice of fermentation, reducing the complexity of the process and allowing its standardisation. In fact, in the first edition of our Digital Gastronomy Talks, Blanca del Noval, researcher at BCC Innovation specialized in fermentations and wild plants, told us that one of the advantages of digitizing the processes of this ancient technique is its power to transform gastronomy for new elaborations and the revaluation of raw materials.
Fermentabox is an adaptation of the Personal Food Computer project devised by the MIT Media Lab under the Open Agriculture initiative, which consists of creating a robotically controlled ecosystem to reproduce different climates. This device has been developed by BCC Innovation, the Basque Culinary Center's Technology Centre, in collaboration with Tecnalia and promoted by our digital transformation laboratory LABe Digital Gastronomy Lab. In the living lab we have been in charge of the conceptualisation, the specifications of the device and the market validation strategy, where we have obtained positive results.