Future of the Digital Restaurant Report
10 May 2022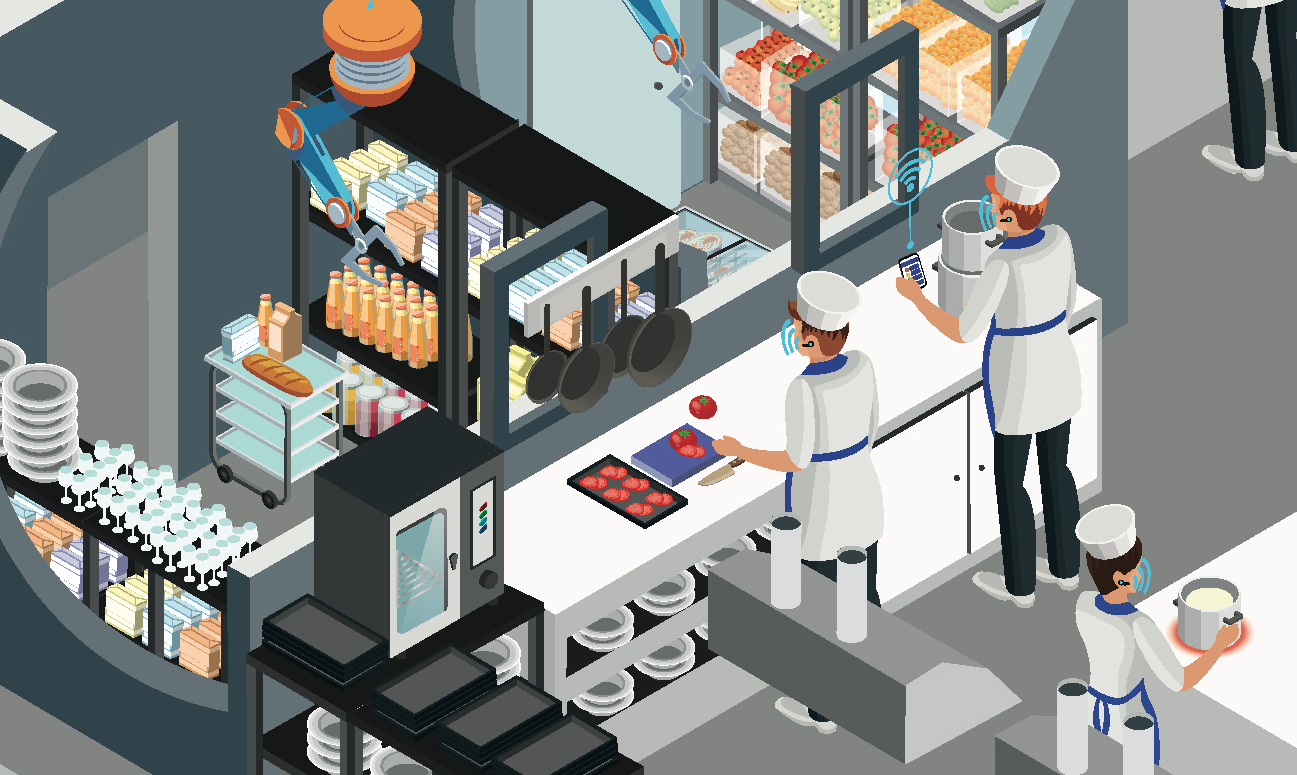 From LABe Digital Gastronomy Lab we present the first report on digital restaurant prospective (DOWNLOAD LINK).
For the first time, the report aims to provide a vision of the "Present and Future of the Restaurant" in order to drive the digital transformation of the HORECA sector. The content of the report, based on the continuous technological scouting that we do in the living lab, consists of two infographics:
Present: an approximate map of more than 300 technological solutions of the "Restaurant Tech" landscape in Spain grouped into 16 categories. This x-ray represents most of the existing technologies that are currently being applied in restaurants with others that are still in the process of development. For this scan we have relied on information shared by Delectatech, a Barcelona-based start-up with the first foodservice observatory specialising in the development of applications based on Artificial Intelligence and Big Data, with whom we collaborate to measure the digital health of Spanish hospitality establishments.
Future: based on more than 100 interviews with users (Back Office and Front Office) and experts in the restaurant sector on current needs and problems, we have created two infographics of the digital restaurant. For this visualization of a future scenario we have drawn on the experience of BCC Innovation, the Basque Culinary Center's Technology Centre, together with foresight methodologies from other studies in the Project Gastronomía collaborative network, such as the future reports GASTRONOMY & TECH 2050 – June 2017, London 2050 – Multisensory Design, Copenhagen 2035 – Intimate Interfaces, Towards Personalized Gastronomy 2050 and Gastronomy 360° – 4 Post-COVID-19 Scenarios.
This paper shows a growing presence of interconnectivity between kitchen devices to run complex programmes or optimise energy consumption, as well as tools that automate the registration of inventory references through photographs of delivery notes and others that predict and suggest variations in sales prices in menus based on occupancy history.
The future, on the other hand, is increasingly decentralised, intelligent and automated, where mixed realities, Artificial Intelligence and Blockchain technologies will play leading roles. In addition, the European Union's vision of Industry 5.0, which seeks a productive and prosperous process, prioritising worker welfare and sustainability, will be taken into account.
Some conclusions about the future of the digital restaurant obtained from this mapping exercise serve to develop and implement technological solutions for different hospitality business models that, on the one hand, streamline the tasks of the kitchen team, management and room service and, on the other hand, bring the public closer to the restaurant by inviting them to interact with the innovations during their dining experience.