Virtual Meetup by FoodHack Wageningen Tickets, Wed, Feb 17, 2021 at 7:00 PM | Eventbrite
15 febrero 2021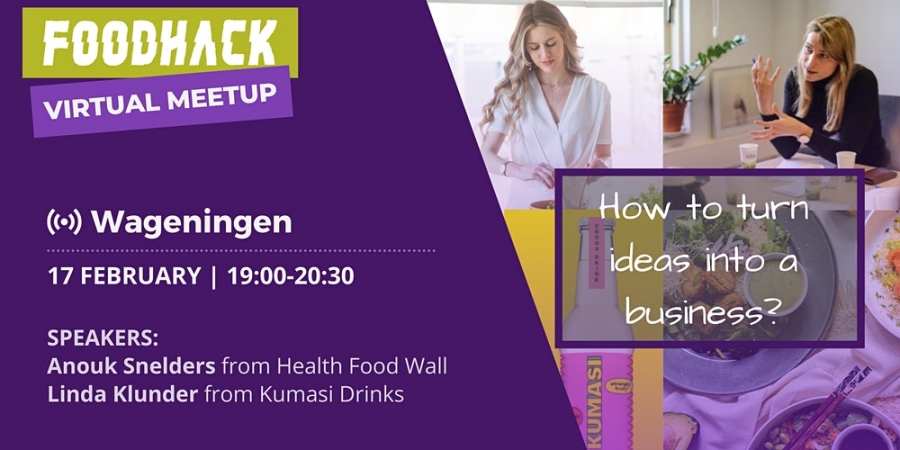 Join our virtual meetup for entrepreneurs, professionals and enthusiasts to network and hear from other food industry speakers in the Netherlands.
Whether you're just starting your food business, looking to connect with startups to invest in or want to network with other-like minded professionals – this event is for you.
Registration necessary.
Speakers
1. Anouk Snelders will share her story about The Health Food Wall, a company who made delicious and healthy food available quick and easy. You might know them already from their Smart Fridge at Schiphol!
2. Linda Klunder from Kumasi Drinks. They make a 100% natural juice from the pulp around the cocoa bean which usually goes to waste.
Opportunity for 30s pitches and break out rooms for networking
Date: Wednesday, 17th February 2021
Free entry and doors open at 7:00pm
Language : English
Ambassadors: Anna Pogrányi, Jean Boudillon & Lieke Boerema
Join our Wageningen / NL community via
The FoodHack Meetup concept
Global food industry meetups to network
Always free to attend and open to everyone
Industry guest speakers speaking on the event thematic
Opportunity to pitch your business, venture, etc. on stage
About the Organizer
FoodHack is a community-driven platform that inspires, highlights and connects food entrepreneurs and innovators. With meetups across the globe, a weekly food industry newsletter and an annual summit – find out more on (www.foodhack.global)
Must RESERVE in advance and please do let us know for cancellations
Source: eventbrite.com