Interview with Danila Brunner  | foodcircle
10 julio 2020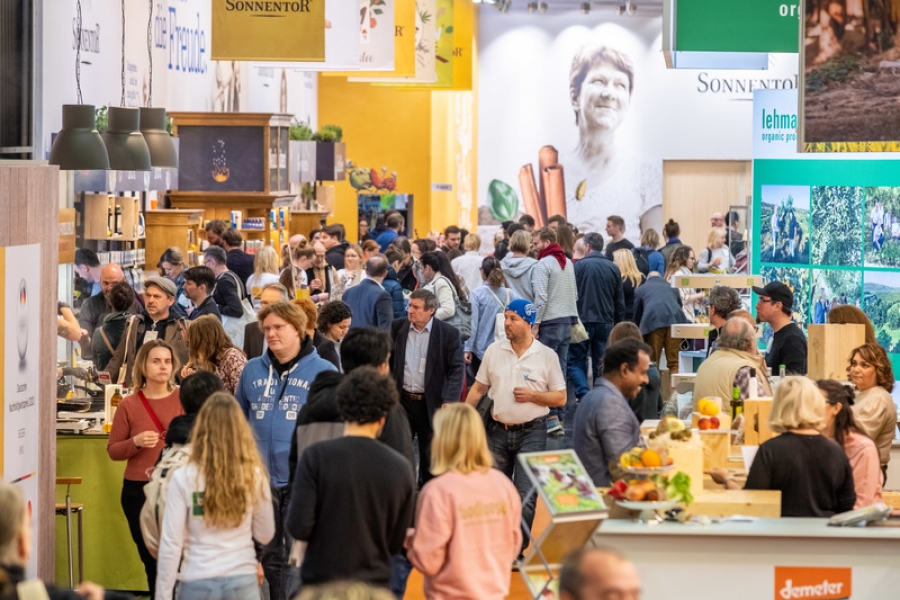 The Director of BIOFACH and VIVANESS shares exciting insights into the world's leading trade fair for organic food and its natural cosmetics sector partner convention.
About BIOFACH & VIVANESS
As the world's leading trade fair for organic food, BIOFACH is an established platform where food industry professionals from across the globe come together to taste and experience organic food while sharing market insights and presenting the sector's latest trends. Its partner convention, VIVANESS, is the international trade fair for natural and organic personal care products. The next edition of both conventions will take place in Nuremberg from 17 – 20 February 2021.
About Danila Brunner
Danila Brunner has worked as the Director of BIOFACH and VIVANESS since 2015. Her previous work experience in the field also includes prestigious positions as Portfolio Director of Clarion Events Deutschland GmbH and Director of Messe Düsseldorf GmbH.
BIOFACH has been a platform for organic foods since the 1990s. How has the trade fair evolved and changed since its founding?
The world's leading trade fair for organic food has successfully and dynamically evolved and changed along with the sector. BIOFACH is celebrating its 31st year in 2020. It all started in 1990 with 197 exhibitors in the Ludwigshafen Stadthalle. Some 2,500 visitors came to the first BIOFACH. At that time, it still called itself the European Trade Fair for Organic Food and Natural Products. BIOFACH was founded by Hagen Sunder, Hubert Rottner and Jürgen Ries. The first time the trade fair was held in Nuremberg, Germany, in 1999, it attracted 1,276 exhibitors and 15,384 visitors. In 2001, the founders decided to put the organisation of BIOFACH into the hands of NürnbergMesse. Since then, BIOFACH has continued its brilliant development as the world's leading trade fair for organic food and has firmly established itself in the international exhibition scene.
In 2007, the growth in the importance of the natural cosmetics sector led to the establishment of VIVANESS, an international trade fair for natural and organic personal care, as a separate exhibition.
What sets BIOFACH apart from other organic foods trade fairs in Europe?
BIOFACH is the world's leading trade fair for organic food. More than any other trade fair, it represents an incomparably diverse range of organic products, impressive innovations, sources of inspiration for food and product line trends, a variety of creative and networking opportunities, and grounds for professional knowledge sharing. It's the gathering place of the international organic food and natural cosmetics industry, including representatives from retail trade, the catering industry and the entire value chain, as well as policymakers and the media. BIOFACH also stands for a 360° perspective on the organic sector. As the industry's largest and most comprehensive congress in the world, each year, around 9,000 delegates participate in about 150 individual sessions.
As a trade fair with 3,700+ exhibitors, how do you ensure that all the foods and services exhibited comply with set quality standards? And how do IFOAM and BÖLW's roles as international and national patrons tie into this?
BIOFACH also stands for being "consistently organic." This means, for example, that the products that the 3,700+ exhibitors present to over 47,000 international trade buyers are certified organic and conform to international standards. According to BIOFACH's approval criteria, this means at the very minimum organic certification according to the EU's regulations on organic farming or, on an international level, according to IFOAM's Family of Standards. This involves our partners, such as IFOAM – Organics International, the international patron of BIOFACH World, which includes all BIOFACH exhibitions around the world, as well as the German Federation of Organic Food Producers (BÖLW), our national honorary sponsor. These are the organisations that shape the industry and its standards at the political level.
Our partners, IFOAM and BÖLW, also play an important role in terms of their political and legislative work on the international stage. They are a driving force⁠, for example, in determining each year's main congress theme⁠, and in this way, contribute significantly to the unique character of the world's leading trade fair.
What recommendations do you have for brands who are exhibiting with you for the first time?
If you've decided to participate in the exhibition, use your time on site to obtain a good overview of the entire industry. This is the only place where⁠—within such a short period of time, namely the four days of the trade fair⁠—you as a company have an opportunity to immerse yourself so thoroughly in the entire organic community, enter into such professionally grounded exchanges with so many other companies, network with the numerous players, and learn about the latest developments at the congress. You are part of the sector and can use the world's leading trade fair as a platform for shaping it, together with your customers, partners, and all the industry players.
It's also extremely important that you take time to prepare in order to make the most of your trade fair participation. As the BIOFACH team at NürnbergMesse, we're on-hand at all times to offer you help and advice so that you can derive the greatest benefit for your company before, during and after the event. You'll also find basic tips on successful trade fair participation here.
Whether long-term exhibitors or new brands and companies who will be joining us for the first time, we're already looking forward to seeing all our customers again in 2021!
BIOFACH runs parallel to and in collaboration with VIVANESS, the international trade fair for natural and organic personal care. Elaborate on your partnership and touchpoints.
Naturally, the two sectors are very closely related, as are the trade fairs. At both BIOFACH and VIVANESS, we deal with topics like sustainability, innovative packaging, and vegan foods or cosmetics. Thanks to this, the two trade fairs benefit from each other and have many items on their programmes—at the congress or in forums—that are of interest to both sectors. There are also synergies for visitors based on common sales channels.
Until 2007, the natural cosmetics product line was actually part of BIOFACH. But the market for natural cosmetics has grown tremendously and become increasingly differentiated. That's why we decided to dedicate a separate event to this dynamic and innovative sector, which is how VIVANESS was founded. The exhibition includes everything related to natural cosmetics, wellness products and chemist articles. Unlike organic foods, only private-sector certifications are available for natural cosmetics. VIVANESS is the world's only event that exclusively presents natural cosmetics products based on defined approval criteria. It's one of our USPs and ensures reliable guidance and transparency for our trade visitors.
What is BIOFACH's vision for the future? How do you hope to expand in the years to come?
Instead of answering this question in terms of a quantitative, numerical expansion, let me say that our vision for BIOFACH's future is for the world's leading trade fair to continue to offer a forum for the entire international sector. And not just as a purely commercial platform but as a central place that provides a holistic overview as well as guidance; one that serves as a platform where all the relevant players shape the sector's future!
In any case, we will increasingly be incorporating opportunities like those which digitisation offers us and the industry, and will constantly work at conceptually aligning the trade fair duo —because this applies to both BIOFACH and VIVANESS equally—with the latest trends and developments and make them future-ready. Our focus is always on our customers and the requirements of the sector.
1. Figures from BIOFACH and VIVANESS 2020
Learn more on biofach.de and vivaness.de | Connect with Danila Brunner on Xing | Imagery: BIOFACH & Vivaness
Source: foodcircle.com