How can UK foodservice brands best use social media? | Mintel.com
26 febrero 2021


Trish Caddy is a Senior Foodservice Analyst, writing reports about the UK's eating out market. She previously worked as a restaurant cook in London.
As in-person experiences have become very limited during the pandemic, foodservice brands are left with no other option than virtual events, which is already a widely known concept in APAC. What can UK foodservice brands learn from overseas operators who are successfully utilising social media to maintain interest among customers during this challenging time?
What we've seen in the first lockdown
In the first lockdown in March 2020, we saw UK restaurant operators and chefs use social media platforms to hold live stream cooking demonstrations to boost sales of meal kits. We've also noticed the rise of "grocerants" with LEON, an example of a restaurant chain that converted its sites into grocery shops to sell restaurant ingredients and packaged meals to customers instead of letting them go to waste during the first lockdown.
Meanwhile, in APAC, QVC-style shopping channels are noticing a resurgence thanks to the recent launch of Facebook Shops in May 2020, which is enabling businesses to set up a Live Shopping feature on their Facebook Page to sell their products directly to consumers at home.
This new Facebook feature enables viewers of a live broadcast to purchase products in real time by typing prescribed keywords or codes in the livestream comment box, which automatically triggers a notification within Messenger to direct users to purchase online.
Facebook Live Shopping best practice from APAC
Facebook group Singapore Home Cooks (SHC) is an online community of cooking enthusiasts with over 229,000 members, which pivoted to Live Shopping when the country went into lockdown in March 2020.
Facebook Live viewers have been getting up close and personal with unique and exclusive ingredients directly sourced in collaboration with suppliers and international government agencies to promote regional agriculture and culinary specialties.
SHC's Live Shopping sessions feature cooking demos with chefs and limited-time offers, with the ability to make instant, direct purchases from its in-app shopping cart feature. SHC's hope to connect people with highly sought-after products such as sea urchin, salmon roe and Japanese wagyu beef has turned into a new revenue stream, as these hard-to-find items are often not sold at mainstream supermarkets.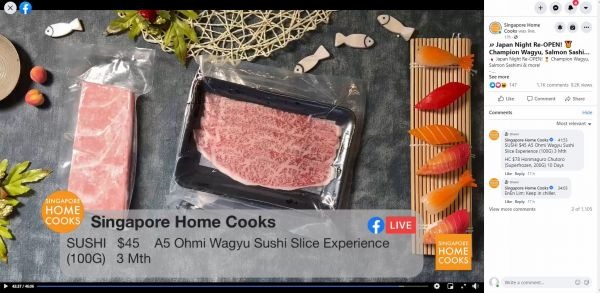 Singapore Home Cooks Live Shopping
Source: Facebook, @singaporehomecooks
On 8 December 2020, Nestle Australia's KitKat Chocolatory launched its first Facebook Live Shopping event to boost its Christmas online sales.
Hosted by KitKat's head chocolatier Connie Yuen, Facebook Live viewers could make instant, direct purchases from kitkat.com.au by typing prescribed keywords in the livestream comment box, as Connie introduces each range.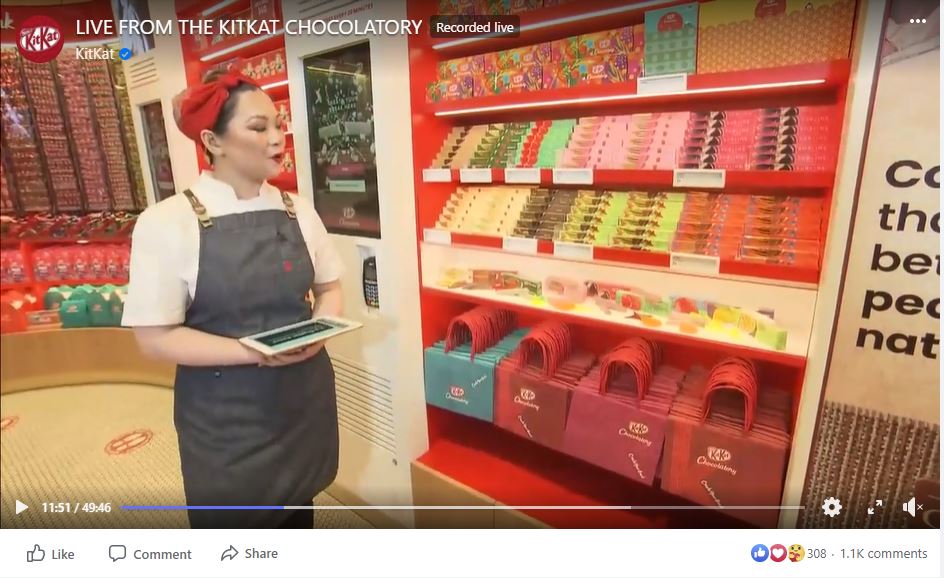 Nestlé Australia's KitKat Chocolatory
Source: @kitkatau
KitKat's "shoppable" live stream event, which attracted more that 130k views, is part of an emerging e-commerce channel that has significant potential to grow further over the coming years.
Will live shopping catch on in UK foodservice?
Social media platforms have turned into a vital online community support system during this pandemic, and some restaurant chefs started using Instagram to entertain and educate through cooking demonstrations or running livestream sessions that include making cocktails (e.g. the "quarantini") in real-time.
Some foodservice operators in the UK are already using the Instagram Shopping feature to connect their Instagram followers to their e-commerce websites. For example, vegan burger bar Mooshies London and Dishoom both have a shoppable Instagram feed, with each meal directing the customer to the restaurants' e-commerce checkout page directly.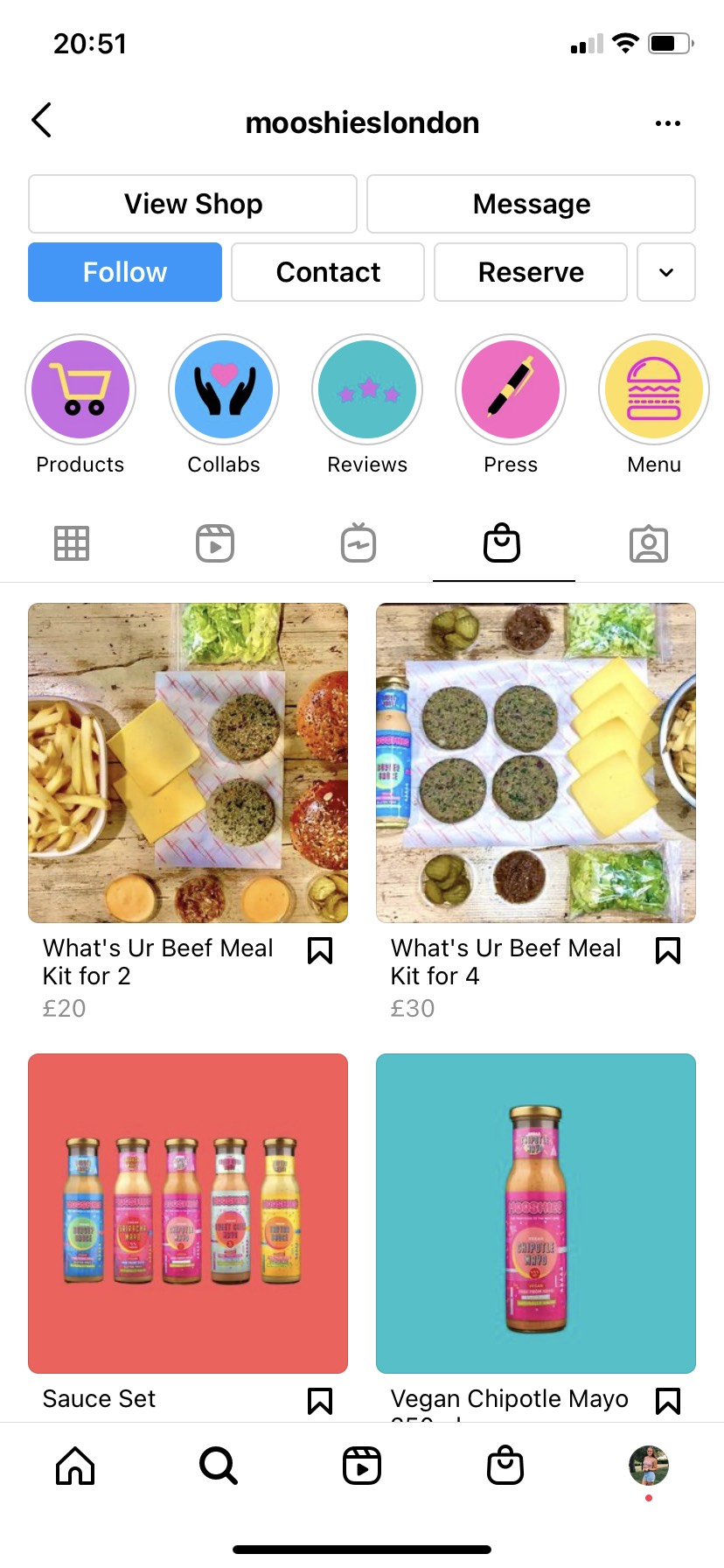 Mooshies London's shoppable Instagram feed
Source: Instagram, @mooshieslondon
While Instagram Shopping is a static display of products for sale, Facebook Live Shopping allows operators to offer real-time auctioning of food and drink and ready-to-eat meals. Facebook Live Shopping has hit APAC in a big way but it hasn't reached UK shores yet, possibly because recent high profile controversies have led some people to have negative perceptions of Facebook, with it significantly more likely to be associated with data insecurity and misinformative content than the other platforms, according to Mintel's Report Social Media: Inc Impact of COVID-19 – UK, July 2020.
What we think
The rise of Live Shopping in APAC was fuelled by people's interest in home shopping and entertainment or "shoppertainment" during lockdown, and its continuing popularity is indicative that people have adapted to a new way of shopping for food and drink.
While social media platforms still have a long way to go to be viewed as genuinely useful for shopping in the UK, online shopping has gained significant momentum as a result of the pandemic. With people likely to still be limiting their in-store shopping time and shopping more online over the coming period, as well as using social media more, this could be a key moment for social media platforms to fast-track their e-commerce strategies.
The Live Shopping format allows operators to tell consumers the story behind their brand, and encourage people to purchase at the same time. This allows, for instance, a dark kitchen or delivery-only operator, which lacks a physical restaurant presence, to leverage the Live Shopping capabilities of social media that lets them give people a peek behind the scenes of their operations through cooking demonstrations or cook-alongs, introducing their products and answering questions from shoppers (and/or viewers) in real time.
Source: mintel.com